NuvoLase provides the following information to help you understand the causes of nail infection, or fungus, and what nail fungus looks like. This information does not take the place of talking with your healthcare provider about your medical condition or your procedure.
What are the causes of nail fungus, or Onychomycosis?
Fungi, including yeasts and molds, are typically the causes of nail infections, and most are caused by a group of fungi called dermatophytes. The most common fungi that cause nail infection disease in animals and humans are Trichophyton rubrum, Trichophyton mentagrophytes, and Candida albicans. These fungi can live in the layer of dead skin around your nails, in the space under your nail, and in the nail itself
What are the signs and symptoms of nail fungus?
Nail infection can cause permanent deformity of the nail, which can interfere with your being able to wear shoes, walking, sports, and other activities. Infected nails often show one or more of the following signs: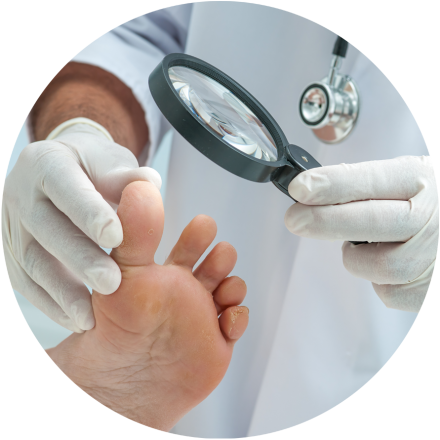 Yellow streaks in the skin under the nail, or nail bed, and on the underside of the nail
Buildup of bits and pieces of skin and nail fragments under the nail
Discolored and thickened nail that may separate from the skin under the nail
Brittle, broken, and thickened nails
White spots or streaks on the nail surface
Soft and powdery nail surface, which appear as the infection worsens
Damaged, crumbly, and brown or gray nail surface, with no separation of the nail from the underlying skin